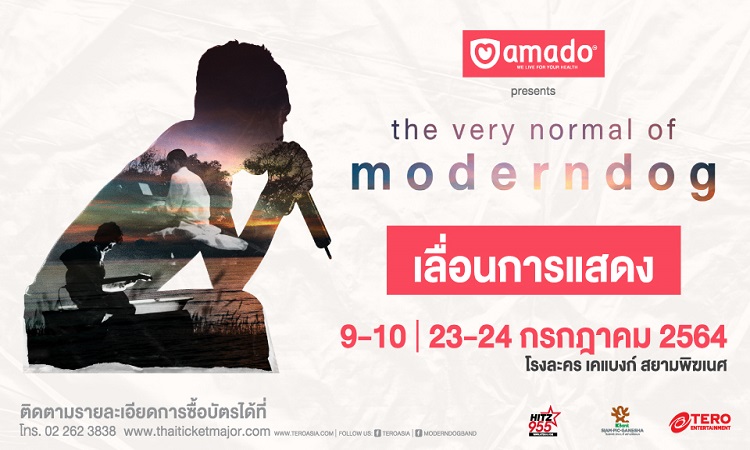 Due to the ongoing COVID-19 situation, Tero Entertainment and Moderndog are disappointed to announce the postponement of "Amado Presents the Very Normal of Moderndog" concerts which were scheduled to take place on 5, 6, 19, and 20 February 2021. The shows are postponed as follows: shows on 5-6 February will be rescheduled to 9-10 July 2021, and shows on 19-20 February will be rescheduled to 23-24 July 2021. Moderndog is concerned for their fans' health and well-being and would like to do their part in reducing the opportunities for the spread of infection.
Tickets for the original show dates are still valid for the rescheduled performances. For ticket holders who would like to return their tickets, refunds and date change are available, with no additional fee, at 14 ThaiTicketMajor outlets from Friday 22 January until Sunday 7 February 2021 during working hours. For more information, call 0-2262-3838 or go to www.thaiticketmajor.com and e-mail at cs@thaiticketmajor.com.
Stay up to date on concerts and events at www.teroasia.com, or our Facebook www.facebook.com/teroasia, Twitter @Teroasia and Instagram @Tero_asia.
ModernDog and Tero Entertainment apologise for the inconvenience. We thank you for your unending support, and hope to see you all at the show.