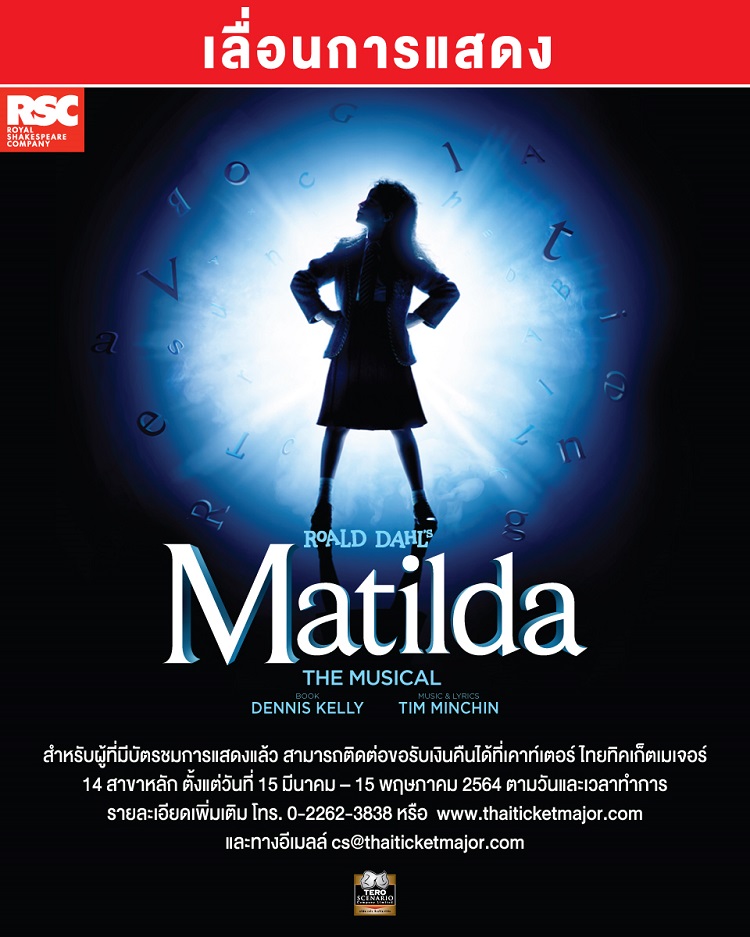 Due to the current pandemic situation affecting the schedule of the international tour of Matilda The Musical, Tero Scenario wishes to announce the rescheduling of "Matilda The Musical" in Bangkok to 2023. Discussions with our partners are ongoing, and we hope to announce the new dates later this year.
From our partners:
ROYAL SHAKESPEARE COMPANY
The Royal Shakespeare Company is delighted to confirm that discussions are currently underway to secure new dates for Matilda The Musical to play in Bangkok. We look forward to sharing this incredible story of courage with Thai audiences as soon as the pandemic will allow.
PAUL WARWICK GRIFFIN for GWB - Producers of the International Tour of Matilda The Musical
At this very challenging time when the global entertainment industry is under such unusual pressures, we are incredibly pleased to be able to say that we will be rescheduling the Bangkok performance dates of Matilda The Musical to ensure that Thai audiences will still be able to enjoy this glorious piece of theatre. GWB would like to extend our heartfelt thanks to our partners, Tero Scenario, for their continued commitment to bring this remarkable musical to Thailand.
Patrons are able to refund all tickets from 15 March 2021 till 15 May 2021 at any ThaiTicketMajor outlet, at www.thaiticketmajor.com, by contacting the Call Centre on 02 262 3838, or by email at cs@thaiticketmajor.com.
New dates for Matilda The Musical live in Bangkok will be announced later in the year along with a list of other top international touring events we have secured for 2022 and 2023.
Tero Scenario will continue to secure the very best international musicals for Thai audiences to enjoy, so please register with us at https://www.thaiticketmajor.com/matilda/ to ensure that you get first priority in securing the best seats for our shows.